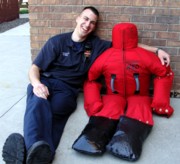 These dummies are tough! We dare you to compare our products with other, cheaper versions on the market that will not stand the test of time! You can even throw these dummies to the mat and go for submission hold.
We are so proud and confident in our products that we offer a 3-year warranty against manufacturing defects!
Three-year Warranty Period
All dummies should be used on padded floors. All dummies (Exluding Econo models) are guaranteed for three years against manufactures defects. OK Fine Productions will repair any manufacturers defect during warranty period FREE of charge and pay return shipping to you. (Continental U.S. only.)
Return Policy
If the dummy does not fit your needs, please return to shipper within 30 days of receipt. If not damaged and is resalable as new (following inspection), we will refund your purchase price less $25 restocking fee. If after inspection, the dummy cannot be resold as new and has to be resold at a discounted price, we will deduct the difference from your refund.
Our products are so Tough! Just a reminder that the Melting Point of Cordura Fabric is 358 degrees C. So, at that temperature the fabric should begin to melt. Please don't put Rugged Reds, Kids Reds or Police Model training dummies against open flames. Also, the fabric is water resistant, but not waterproof. If questions, please give us a call at 307-266-4662.