Special stand with velcro, works with velcro vest for standing dummy upright for takedowns and custody control along with taser practice and striking!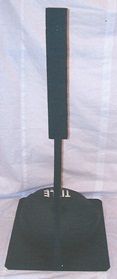 Floor stand for Police model. Stand comes with a 75# Zippered Sand Bag (Sand not included)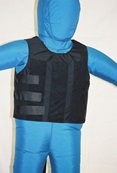 You can practice full force throwing and also land hard on the dummy, and go into pin, armbar, choke, etc. Numerous Law Enforcement academies and agencies use our dummies for self-defense and baton training; and, for asp and handcuffing, and ground control techniques.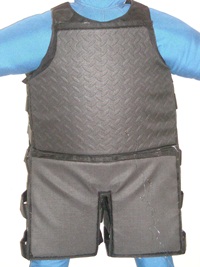 With our tazer vest, you can perform tazer practice.
Our products are so Tough! Just a reminder that the Melting Point of Cordura Fabric is 358 degrees C. So, at that temperature the fabric should begin to melt. Please don't put Rugged Reds, Kids Reds or Police Model training dummies against open flames. Also, the fabric is water resistant, but not waterproof. If questions, please give us a call at 307-266-4662.
Police Model Dummy - Throwing, Grappling, Striking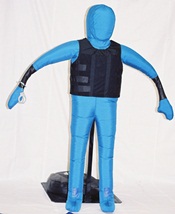 Our Police Model Does It All!
Great for academy use, thousands now being used by police training academies for takedowns and custody control along with wrestling, Judo and JuJitsu Schools.
Filled with a composite of foam and other materials to give it firmness allowing it to support itself when doing throws and takedowns, but flexible enough for ground fighting.
Dummies have straps front and back.

Dummies have side loops for attaching to a Heavybag, or for keeping Gi in place for continuous throwing.

With special Drag Harness, can be hung like a Heavybag for striking techniques.

The legs are strong enough to support the dummy so you can step in for throws or sweeps, but will bend for ground work. Release the tension and they will return to the original position.

Wrists are downsized for handcuffing techniques.

Great for less lethal ballistics training.
Our Big Blue Police Model is designed to teach arrest and control techniques without fear of injury. With our Special Velcro stand and removable velcro vest you can practice handcuffing, takedowns, strikes and less lethal ballistics. With our removable tazer vest you can train with tazers.
RE: Police Model with Realistic Hands - "Thank you all so much. We have already taken it out on a SWAT training day and used it for some Bean Bags and 37MM KO1 baton rounds. We are very impressed so far."

Sergeant - Operations Bureau, Matt McLaughlin Blue Springs Police Department,,City of Blue Springs, Mo, May 31, 2016
Police Model Big Blue Dummy Series Specifications & Prices:
| | | |
| --- | --- | --- |
| Height | Weight | Price |
| Six Feet | 70 lbs. Police Model Dummy (Has Human-Like Hands for handcuffing) | $2,193 |
| Six Feet | 70 lbs. Police Model Dummy (Has special wrists and mitten-like hands for handcuffing) | $1,904 |
| | Removable Tazer Vest Only | $506 |
| | Special stand to hold dummy in an upright position. | $937 |
| | Hanging Removable Harness (So dummy may be hung like a heavy bag.) | $58 |
Police model has internal frame that's strong enough to support weight of dummy.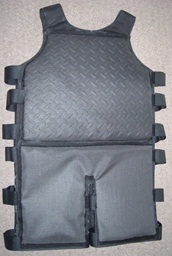 Tazer Training!
For unlimited taser training, try our removable taser vest-only $506.
Save when you purchase the complete package!
Special Law Enforcement Package Price
Police Model with Mitten Hand..............$1,904
Stand.........................................................$937
Velcro Vest .................................................$221
Total..........................................................$3,062
-$50 Package Discount
Total Price $3,012
+Shipping and Handling
(Call for Shipping)

Special Law Enforcement Package Price
Police Model with Realistic Hand.....$2,193
Stand.........................................................$937
Velcro Vest .............................................$221
Total........................................................$3,351
-$50 Package Discount
Total Price $3,301
+Shipping and Handling
(Call for Shipping)
(Prices are quoted in U.S. currency. Shipping & Handling rates vary by product. Please contact us for quotes. Quotes within the USA are guaranteed for 90 days. Quotes for overseas shipping are guaranteed for 30 days.)
Who We Are-
OK Fine Productions makes the longest lasting products for all military branches, first-responders, martial arts studios and more! Duns Number is 019684088. We can provide a sole source letter and are registered on the SAM.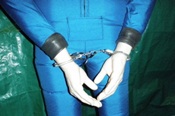 Now 2 choices of Police Model Training Dummies. Choose mitten type hands or realistic hands.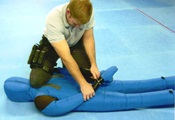 When standing, takedown techniques can be practiced over and over from both front and rear.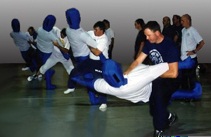 Wyoming Law Enforcement Academy students practicing takedowns and ground control techniques with Police Model.
"Big Blue has been used in the mat room, as well as on a live fire range. Your training dummy has been kicked, punched, thrown, tackled, slammed, choked, dragged and stomped. I've used steel batons and steel toe shoes. I've shot Big Blue with bean bags at close range without any showing of damage or wear. I believe your close attention to detail will ultimately save the lives of many law enforcement officers."
-Bryan Jang, Homeland Security, September, 2004
"Our department ordered seven of the police model, Blue Man Training Dummies approximately five years ago. These dummies have withstood an unbelievable amount of use over the years, and have held up far beyond our initial expectations. We originally purchased dummies from another company, and found that they just were not holding up to the demands we were putting them through. Some were breaking after only a handful of training sessions. Our OK Fine Productions Blue Men have withstood many years of handcuffing, strikes, kicks, and take-downs from our officers, and are still going strong. These dummies have without a doubt paid for them selves many times over in regards to injury prevention. We were also very pleased at the overall value and quality of the Blue Men Dummies. This takes into consideration that they were one third to one half the price we were paying previously for the ones from the other company. And again, those were breaking after only a few sessions. OK Fine Productions has always treated us with the utmost care and professionalism, and is truly committed to top notch customer service. Sharon has always been right there to answer any questions, or take care of any follow up requests, etc. She has been a true pleasure to work with, and every company should have someone like her representing them. Thanks again OK Fine Productions for your professionalism, and an excellent product!"
-Cpl. Steve Martin Conservation Officer Michigan Department of Natural Resources - Law Enforcement Division