Rugged Red is made with a heavyweight cordura suit.

Inside filler is a composite of sand another materials.

Has double layers of cordura at high wear areas and then covered with a layer of rubber to make your purchase last longer.

Rugged Red Legs are coated on both sides with truck bed liner for extra durability.
Attention: Fire, Police & Rescue Departments
OK Fine Productions has your training needs covered!
Are you tired of your Training dummies leaking sand or having their arms fall off? Our Training dummies are used by Military Personnel, Safety Teams, Emergency Personnel, Police and Fire Departments to train in rescue maneuvers or takedowns and custody control.
Click here to see the ballistics video!
The Rugged Red Rescue Dummy was developed after years of research to give rescue personnel realistic training. We listened to and worked with Emergency Teams to create an extremely durable rescue dummy at an affordable price.
Show me more info on Rugged Red.
For Police: Big Blue Training Dummy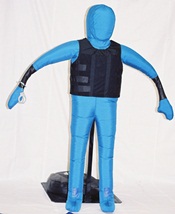 OK Fine Productions was the first to introduce the multipurpose Training Dummy in 1996. Why buy multiple training dummies for your department when Big Blue can meet all you needs? With Big Blue, you can minimize injuries and reduce training costs.
Can be used for takedowns and custody control; Has handles front and back for 2-man drills.

Can be hung like heavy bag for striking techniques with weapons.

Great for less lethal ballistics training

6 ft., 70 lbs. Police Model has narrowed reinforced wrists for handcuffing techniques.
Our products are so Tough! Just a reminder that the Melting Point of Cordura Fabric is 358 degrees C. So, at that temperature the fabric should begin to melt. Please don't put Rugged Reds, Kids Reds or Police Model training dummies against open flames. Also, the fabric is water resistant, but not waterproof. If questions, please give us a call at 307-266-4662.
Who We Are-
OK Fine Productions makes the longest lasting products for all military branches, first-responders, martial arts studios and more! Duns Number is 019684088. We can provide a sole source letter and are registered on the SAM.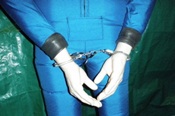 Now 2 choices of Police Model Training Dummies. One with mitten type hands or human like hands.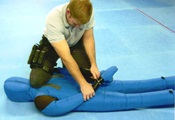 Upon standing, control and takedown techniques can be practiced over and over from both front and rear.