OK Fine Productions has your training needs covered!
Are you tired of your Training dummies leaking sand or having their arms fall off? Our Training dummies are used by Military Personnel, Safety Teams, Emergency Personnel, Police and Fire Departments to train in rescue maneuvers or takedowns and custody control.
Click here to see the ballistics video!
The Rugged Red Rescue Dummy was developed after years of research to give rescue personnel realistic training. We listened to and worked with Emergency Teams to create an extremely durable rescue dummy at an affordable price.
Show me more info on Rugged Red.
For Police: Big Blue Training Dummy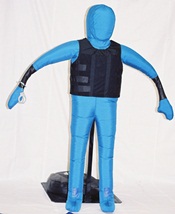 OK Fine Productions was the first to introduce the multipurpose Training Dummy in 1996. Why buy multiple training dummies for your department when Big Blue can meet all you needs? With Big Blue, you can minimize injuries and reduce training costs.
Can be used for takedowns and custody control; Has handles front and back for 2-man drills.

Can be hung like heavy bag for striking techniques with weapons.

Great for less lethal ballistics training

6 ft., 70 lbs. Police Model has narrowed reinforced wrists for handcuffing techniques.