Each child's dummy has no internal steel frame but is still semi-self supporting; meaning while standing, you can balance them with your finger. A 4 ft. dummy is great for young wrestlers.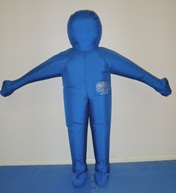 The Original Big Blue Kids sizes have soft, flexible arms and legs.
Original Frameless Children's Dummies for Throwing, Grappling & Striking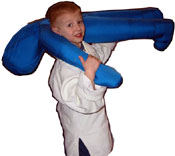 The Best children's training dummy on the Market! Our quality throwing dummies allow you to step in for throws while balancing the dummy, so your child is not lifting dead weight.
Our Kids dummies will not collapse like others on the market, but are still soft and pliable.
Original Frameless Kids Big Blue Dummy Series Specifications & Prices:
| | | |
| --- | --- | --- |
| Height | Weight | Price |
| Four Feet | 20 lbs. Big Blue | $492 |
| Three Feet-Two Inches | 15 lbs. Baby Blue | $418 |
| Four Feet | Suit Only | $345 |
| Three Feet-Two Inches | Suit Only | $301 |
(Prices are quoted in U.S. currency. Shipping & Handling rates vary by product. Please contact us for quotes. Quotes within the USA are guaranteed for 90 days. Quotes for overseas shipping are guaranteed for 30 days.)
Our products are so Tough! Just a reminder that the Melting Point of Cordura Fabric is 358 degrees C. So, at that temperature the fabric should begin to melt. Please don't put Rugged Reds, Kids Reds or Police Model training dummies against open flames. Also, the fabric is water resistant, but not waterproof. If questions, please give us a call at 307-266-4662.
Who We Are-
OK Fine Productions makes the longest lasting products for all military branches, first-responders, martial arts studios and more! Duns Number is 019684088. We can provide a sole source letter and are registered on the SAM.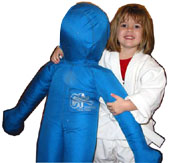 All Dummies are made with Royal Blue Cordura outers, and are complete with feet and mitten-type hands.