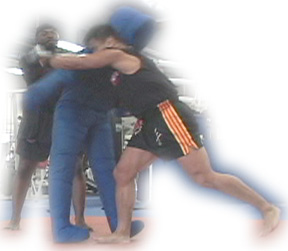 Cung Le, World San Shou Kickboxing Champion has used our training dummies for the past 12 years!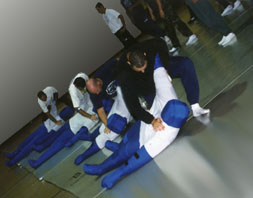 After 18 YEARS of use these Big Blue Training Dummies are practically indestructible. Schools report that after thousands of takedowns, hours of ground fighting abuse and custody control training, our dummies still look like new.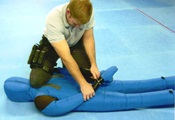 Big Blue Dummies for Throwing, Grappling & Striking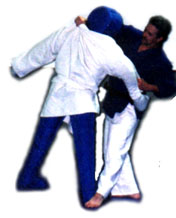 The Big Blue model is surrounded by dense foam for safety. Great for home, wrestling, Judo and Jujitsu Schools. Filled with a composite of foam and other materials to give it firmness allowing it to support itself when doing throws and takedowns, but flexible enough for ground fighting.
Big Blue Dummy Series Specifications & Prices:
| | | |
| --- | --- | --- |
| Height | Weight | Price |
| Six Feet | 50 lbs. Original Big Blue (No internal frame) | $843 |
| Five Feet- Five Inches | 50 lbs. Original Big Blue (No internal frame) | $828 |
| Six Feet | Original Big Blue Suit Only** | $454 |
| Five Feet- Five Inches | Original Big Blue Suit Only** | $440 |
**So you can stuff your own. Suits are made of 1000 weight Royal Blue Cordura-triple stitched-straps front and back.
(Prices are quoted in U.S. currency. Shipping & Handling rates vary by product. Please contact us for quotes. Quotes within the USA are guaranteed for 90 days. Quotes for overseas shipping are guaranteed for 30 days.)
Note: Heavier is not necessarily better. Many Judo schools prefer sixty-pound Big Blue because it enables students to do repeated throws, working on speed and technique, until they are exhausted. Many customers, not knowing what dead weight actually feels like, have ordered 100 lbs. or more training dummies and were disappointed. They had difficulties during practice and wished they had ordered lighter versions.
| | |
| --- | --- |
| | |
Our products are so Tough! Just a reminder that the Melting Point of Cordura Fabric is 358 degrees C. So, at that temperature the fabric should begin to melt. Please don't put Rugged Reds, Kids Reds or Police Model training dummies against open flames. Also, the fabric is water resistant, but not waterproof. If questions, please give us a call at 307-266-4662.
Who We Are-
OK Fine Productions makes the longest lasting products for all military branches, first-responders, martial arts studios and more! Duns Number is 019684088. We can provide a sole source letter and are registered on the SAM.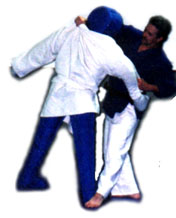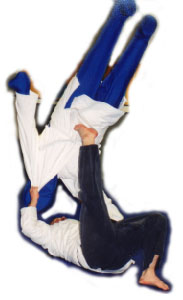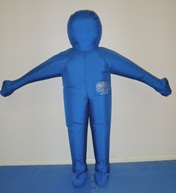 See our Original Big Blue Kid's sizes here!