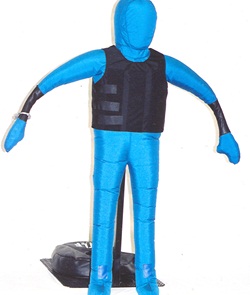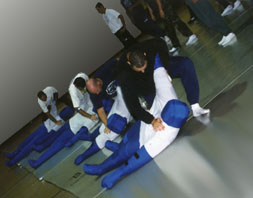 After 18 YEARS of use these Big Blue Training Dummies are practically indestructible. Schools report that after thousands of takedowns, hours of ground fighting abuse and custody control training, our dummies still look like new.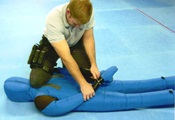 Miranda Hayes, Niagra Emergency Management, July 2019 -
First, I would like to say we absolutely love our Rugged Red! Before we started really getting it dirty, we took it to our High School Traffic Safety Fair and an event where we had a tent set up for Volunteer Fire/EMS recruitment. Teens at the fair and recruitment event were challenged to "Beat the firefighters time". Young children especially liked trying to pull the child-size. It was such a big hit that we decided we would like to continue this at future events.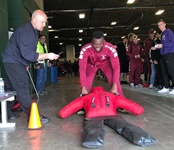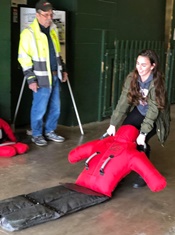 Leading the Way in Design & Innovation Since 1996
With award-winning design and long-lasting durability, these training dummies are the best in the industry! Whether you are looking for dummies for martial arts, law enforcement, fire-rescue or hazmat training, you've come to the right place! Our trainingdummies are used by Military Personnel, Safety Teams, Emergency Personnel, Police and Fire Departments.
| | |
| --- | --- |
| Our dummies can be used for a variety of purposes like Instructor Training for Disabled Sports USA! This is our Extrication Model Rugged Red Deluxe Opt2! | Tired of your training dummies leaking sand or having their arms fall off? Our dummies are built to withstand the toughest workout. These models have real human-like weight for realistic training. |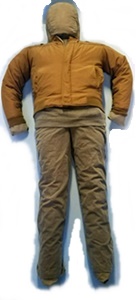 A light weight adult sized training dummy that won't break the bank. Great for disaster scenarios such as search and rescue or mass casualty training situations.
*Clothing not included.
Corporal David Marsh Forsyth, County Sheriff's Office, April 19, 2016 -
RE: Police Model with Realistic Hands - "Thank you all so much. We have already taken it out on a SWAT training day and used it for some Bean Bags and 37MM KO1 baton rounds. We are very impressed so far. Our Sheriff's Office has been using the Rugged Red dummies for several years now and we have been thrilled with their durability. We went through several brands prior to using the Rugged Red and they were destroyed during our training and physical fitness qualifications."
Sergeant - Operations Bureau, Matt McLaughlin Blue Springs Police Department,City of Blue Springs, MO, May 31, 2016 -
We have several variations of the Rugged Red dummies now and they have all held up flawlessly throughout our very harsh treatment. The 25lb weight belt provided by OK Fine Productions has helped safely change our dummy weight and is just as robust and reliable as the Rugged Red. Training dummies are essential for helping keep our deputies in shape and prepared for real life emergencies and these are hands down the best we've used. I can't speak highly enough about the help and service provided by OK Fine Productions...buy from them with ABSOLUTE CONFIDENCE."
Our products are so Tough! Just a reminder that the Melting Point of Cordura Fabric is 358 degrees C. So, at that temperature the fabric should begin to melt. Please don't put Rugged Reds, Kids Reds or Police Model training dummies against open flames. Also, the fabric is water resistant, but not waterproof. If questions, please give us a call at (307) 266-4662.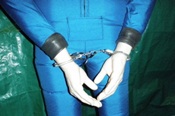 Who We Are-
OK Fine Productions makes the longest lasting products for all military branches, first-responders, martial arts studios and more! Duns Number is 019684088. We can provide a sole source letter and are registered on the SAM.